This is what the press says about Absorbeez:
Disaster Restoration Spotlight
"It's in the bag"
Cleaning & Hygiene Today
Absorbeez super absorbent bags are pretty amazing things. Dry, they are less than half an inch thick, but put them near water and stand back. At CHT we got our hands on a bag 750mm by 300mm and poured four buckets of water over it, than a hose pipe on it for ten minutes.
The transformation has to be seen to be believed. It swelled up from under half an inch thick to well over 6 inches and I really believe the manufacturer's claim that a bag that size will hold 20 litres of water.
What's more, the polymer gel which sucks up water at such a rate holds on to it. The CHT Team has had a small sample bag on its desk all week, swollen and turgid with water, but it just doesn't leak, even when squeezed hard.
The maker, Action Dry, gives a number of uses for these impressive bags. The bags can be tailor-made to any size if required andthesuper-absorbent polymer is also available in roll form to quickly absorb shallow amounts of water or speed up the drying of carpets.
[
"I had water streaming down the kitchen wall under the sink and I was afraid the cupboards and floor would be damaged.  Absorbeez were delivered promptly and stopped all the water.  Bettter than towels as it actually absorbed and contained the water.  I strongly recommend everyone to keep a few at home for emergencies".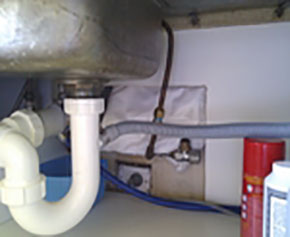 Said Mrs Thompson of Sydney.  The Plumbag was used as it has one impermeable side so that the chipboard cupboard wall did not come into contact with water.
"We store a lot of belongings in the garage except for cars. There is no drain in front of the garage so whenever it rains water comes in under the roller door. We were recommended the 1.8m Absorbeez Double Door and so we have 3 across the outside and 3 along the inside. All our belongings are perfectly dry even after the downpour in Sydney in mid November 2011. Fantastic!"
Said Mrs Albertsen of Sydney. The 1.8m Absorbeez Double Doors are great for garages as less joins means less chance of water getting around the absorbent bags.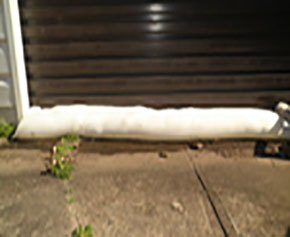 "Absorbeez saved us during all the heavy rains Sydney had this month as we were fed up with using lots of towels!  We had water flowing in under our front door because the drain out the front is so small.  I took a photo before and after.  The Absorbeez did a fantastic job of absorbing all the water.  I think there is still room to absorb more as it does not seem very full."
Said Bianca from Sydney during the March 2012 storms.  The Absorbeez Double Door was the perfect size for this very wide front door.  The photos below show the Absorbeez completely flat before the storm and then after the storm it absorbed the water that came in under the door and stopped the water flowing any further into the house.
Before the storm: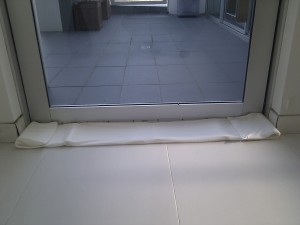 After the storm: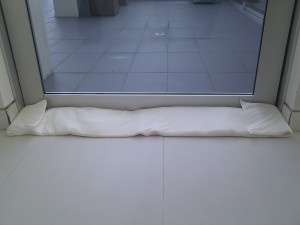 Bianca was still using the same Absorbeez 3 MONTHS LATER during the June 2012 storm: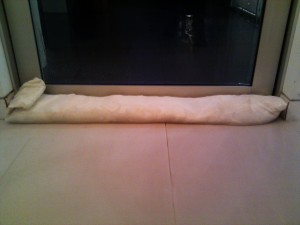 "We use it as a barrier between 2 properties. I haven't spoken to the neighbour yet, but it looks impressive. We were able to channel the water around the brick fence and onto the grass to stop water building up and running back under the buildings."
Said Karen from Brisbane.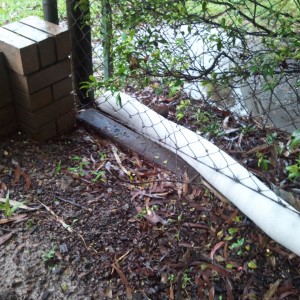 18 April 2012
During the storms that hit Sydney over the last few days one business was busy protecting their property with Absorbeez.  We actually helped them build an 8m long and 1/2m high barrier to protect their basement garage.  Their garage has been flooded before as they are towards the end of a narrow street.
Here are some pictures: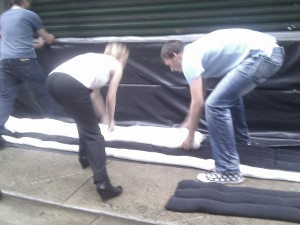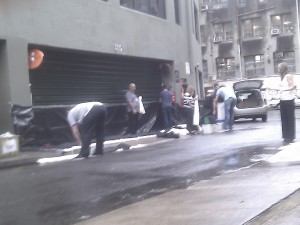 This is the finished barrier:  8m x 0.5m using Stacka Sacks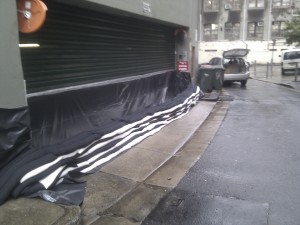 During August 2014 the rain was too much for this house in Coogee in Sydney.  The water was entering through the gap below the upstairs patio doorway and then leaking into the kitchen below.   One Absorbeez Strip Medium put a stop to that!
This is the Strip upon deployment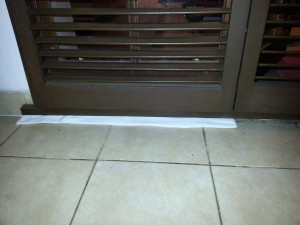 This is the Strip after weeks of rain. No more water leaking into the kitchen downstairs!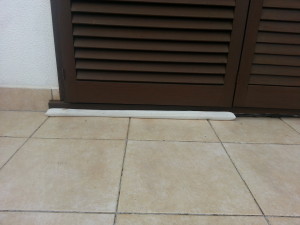 The heavy rain during the first week of January 2016 was flowing under the door of a Sydney restaurant.  Traditional sandbags were suggested to the owner by many but he thought there was a better way and so he found Absorbeez. The following day after his purchase he sent the following text message:
"Hi James, your product is working a treat! Thanks for your assistance. I will recommend your product. Regards Peter".
A customer from Edge Hill in Cairns wrote in December 2018:
Hi James, I'll send some photos to your phone in case they're of use to you, but they're not very glamourous!  And I don't get to see the booms filling because it's under the house, but I can give you the following info that may be helpful for customer queries.
The house is a Queenslander with a traditional open under-house space in which garden and other stuff is stored and where the laundry equipment is housed. The house is on a hillside so water flow from torrential rain comes mainly from north-west and west.  It was built with a slope toward the south-east corner for obvious water flow reasons.  For some inexplicable reason, the previous owners situation all the laundry plumbing in that south-east corner!  I've been using the booms to steer the water away from that area so it still runs off to the south but not across to the south-east corner where the laundry appliances are.  You can see from the photos there are also a couple of rooms of the east side, so if there's a major storm it keeps water well away from them too.
During last wet season's massive downpour (March 2018: https://www.abc.net.au/news/2018-03-27/flooding-cairns-worst-generation-dozens-rescued-region-roads-cut/9590726 )  I used one and a bit booms to stretch the whole distance from the north east corner to the south.  In the section where I expected most water to hit, I doubled up with a second row of boom for about 3 metres.  It worked perfectly.  In that 3 metre stretch where I had the booms laid parallel to each other, both inflated and prevented water getting through.  The single line of boom for the rest was sufficient.   I left it in place for a couple of months then eventually threw it into the garbage.
A word of advice – don't leave wet booms in place too long because, in a tropical climate, the underside gets stinky and disgusting and it's not pleasant to handle!
I didn't use the entirety of booth booms back then.  I cut off what was needed from the second boom, stitched closed the open ends and left the unused portion in the box.  I left the activated boom in place until the wet season was obviously over, then threw out the activated boom, and laid the remainder of boom in its place.
That's the boom that's in these photos.  It has been down for more than 6 months just in case of an unexpected downpour. This area got more than 169mm in a few hours the other day. Being down on the ground for that long has not affected its performance.  It has been undercover and dry in that time. I figure it's safer to leave a boom in place rather than try to second guess whether or not it's going to be needed.
There is a bit over 1 metre of boom that hasn't been affected by run off from the other day, so, if by the end of this next lot of rain it's still unaffected, I'll cut it off and re-stitch the end for further use.
Sandbags are way too heavy for most people and the risk of an injury from handling them is very high.  They're also not something you could leave in place through the year without it being a real nuisance.  The unactivated boom just lies flat and doesn't get in the way of anything. I can step on it, clothes drying racks can be rolled over it…. it doesn't come to any harm.
Used boom can be left in place as it will continue to be an effective barrier until the rains are over.
Unactivated boom can be cut off and reused.
I know a lot of people would baulk at the cost, but if you weigh that up against the hassle of cleaning up wet areas, trying to dry them out in a humid climate (and avoid a mould problem), damaging expensive laundry equipment etc etc… it's  a no brainer.
The track of TC Owen is still quite uncertain, but at least with plenty of boom I'm not going to have to worry about cleaning up a wet mess downstairs!
photos supplied: